Dear Backers,
Welcome back to another update. Today, we would like to give you an update on the shipping fees, schedule, and an overview of how the entire fulfillment process works.
Clarification on air shipping
Before we begin, we would like to clarify the difference between air shipping and ocean freight. As mentioned in the previous update, we offer air shipping to certain regions where it is difficult to book freight on sea vessels due to low regional quantities. For most backers, ocean freight is the standard method of shipping as this offers the best combination of ease and lower cost.
Shipping schedule
As there have been many requests for an update on the delivery schedule, below is a breakdown of our ongoing shipping plan. Production is divided into batches and segmented into 20/40 ft containers to be shipped out. This means that shipping will need to be done by regions to offer the best shipping rates possible.
As we ramp up production rate, fulfillment speed will also pick up pace. This means that it is possible to ship out more than one batch concurrently, and that fulfillment does not happen at a linear pace. Moving forward, we'll also be providing updates the moment each Batch is shipped out.
For Russia and Ukraine backers, unfortunately, couriers are currently unable to deliver to due to the ongoing situation. We'll continue to monitor the situation and work on the shipments when possible.
Batch 3 – The Netherlands (120 bikes)
Batch 4 – USA (120 bikes)
Batch 5 – The Netherlands, Belgium, Luxembourg, Finland (120 bikes)
Batch 6 – Germany (120 bikes)
Batch 7 – Germany (120 bikes)
Batch 8 – Austria, Germany (120 bikes)
Batch 9 – Italy (97 bikes)
Batch 10 – USA (120 bikes)
Batch 11 – USA (120 bikes)
Batch 12 – France, Spain (120 bikes)
Batch 13 – Denmark, Portugal, Czech Republic, Sweden, Hungary, Lithuania, Latvia, Romania, Estonia, Croatia, Cyprus, Slovenia (89 bikes)
Batch 14 – Switzerland, Norway, Liechtenstein, Monaco, Andorra, Azerbaijan, Iceland, Serbia, Macedonia (114 bikes)
Batch 15 – UK, Jersey (88 bikes)
Batch 16 – Germany, Spain, Poland, Slovakia, Greece, Ireland (120 bikes)
Batch 17 – Germany (120 bikes)
Batch 18 – Germany (120 bikes)
Batch 19 – USA (120 bikes)
Batch 20 – USA, Puerto Rico (89 bikes)
Batch 21 – Canada (50 bikes)
Batch 22 – Germany (120 bikes)
Batch 23 – Germany (44 bikes)
Batch 24 – Japan, Korea (115 bikes)
Batch 25 – Taiwan, Malaysia, New Zealand, Hong Kong, Singapore, Philippines, Indonesia, Thailand, Vietnam (59 bikes)
Batch 26 – Australia (45 bikes)
Batch 27 – Chile, UAE, Kuwait, Mexico, Saudi Arabia, Brazil, India, South Africa, Bermuda, Turkey, Algeria, Qatar (46 bikes)
Batch 28 – China, Russia, Ukraine, Israel (10 bikes)
Shipping fees
Below is the list of the shipping fees the EU, Europe, and the USA. For the rest of the world, we are still waiting for the rates from Floship and will provide information soon once it becomes available.
You will also have the option to add on shipping insurance (more information on that below). Duties and taxes (if applicable) will be calculated together with the shipping fees and collected up front.
As with most goods, European orders are subject to Duties and VAT. This will be calculated as a percentage of your total order value.
For USA orders, we're working closely with EasyShip to possibly obtain lowered duties and taxes, to be confirmed soon.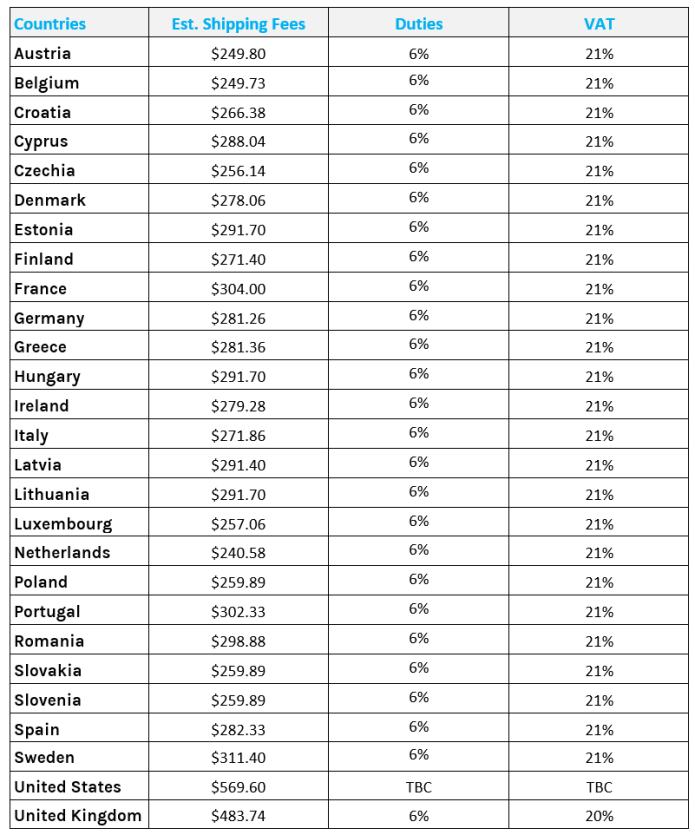 Shipping insurance
Due to the high-value nature of Reevo, we strongly suggest utilizing the shipping insurance provided by Easyship. If you select No during the checkout process, please be reminded that your parcel will not be compensated if the shipment is lost or damaged in transit. This insurance is provided by EasyShip, and terms and conditions can be found on their website.
The insurance covers – Loss, Theft, or Damage during delivery (last-mile delivery).
EasyShip Collect
The final amount to be paid will be calculated based on the insurance (1.5% of product fees) + shipping fees + duties & tax (if applicable) = the final total amount.
Here is an example of the checkout page through the EasyShip Collect system which is sent out when your bike is almost ready to ship. Please ensure that payment is made as soon as possible to ensure that your bike(s) are allocated onto the container.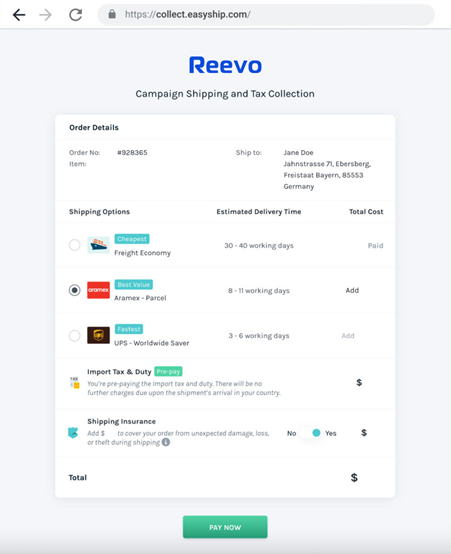 Tracking Code
Once payment is made, a confirmation email will be sent to you with further instructions when your order is ready to be shipped out within the next 5 – 7 days, along with the tracking code to track your shipment. Whether there's an update on your order, you will be receiving an email to keep you up to date.
Here is what you'll see when its time to ship out your bike(s).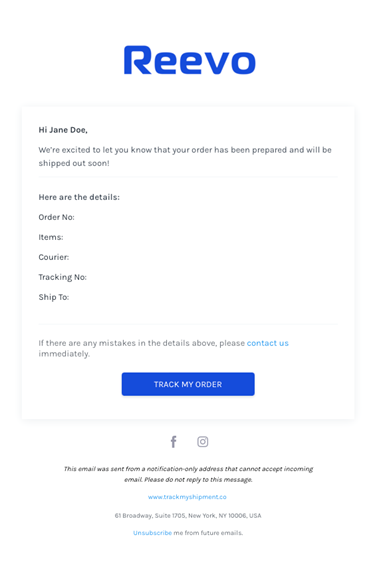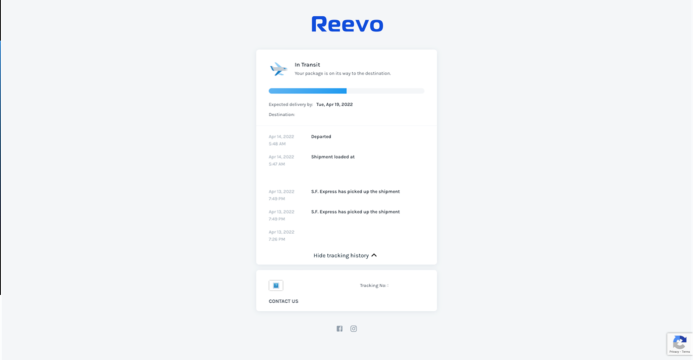 Delivery lead time
Here's a breakdown of the estimated delivery time published by EasyShip. Do note that this is an estimate and may be subject to changes depending on external factors.
United States – 30 to 44 days
European Union – 40 to 51 days
Rest of Europe / UK – 37 to 48 days
Wrapping it up
That's it for today's update. We hope that the information above provides additional clarity on the delivery situation. Things are busy on the production floor, and we are ramping up the production rapidly to expedite shipping and get the bikes to your hands as soon as possible.
If you have any questions regarding the shipping fees, please do not hesitate to email us at hello@reevobikes.com.

As always, take care and stay safe.
With love,
Reevo Bikes
—
Stay in touch with us at:
Facebook : https://www.facebook.com/benoioofficial/
Instagram: https://www.instagram.com/beno_io/
YouTube: https://www.youtube.com/c/ReevoBikes/
Reddit : https://www.reddit.com/r/benoinc/
Twitter : https://twitter.com/reevobikes/
Website : https://www.reevobikes.com/
Email: hello@reevobikes.com