Dear backers,
Welcome back to another bi-weekly delivery update. Here are the numbers of bikes produced in the last 2 weeks:
Total Produced – 51 bikes
Due to a shortage of materials, the number of bikes produced this week has dropped slightly. The team is currently waiting for a new batch of materials to arrive as it has been held up for longer than expected at the port of origin. The new materials are expected to arrive within the next 2 weeks. Due to this, full production will unfortunately have to be suspended for 2 weeks.
During this time, the team will make full use of the lull in production to optimize our production and QC process to make the process much more efficient than ever before. We'll also be working on certain sub-assembly parts and further quality checks on available parts, and setting up our secondary assembly site to increase production capacity.
Correspondingly, we will also temporarily stop sending out shipping surveys during this period and will resume once the materials have arrived at our manufacturing facility.
Shipping Status
With the experience that the team has gained over the last few months, we are happy to be able to say that production efficiency has been increasing steadily, which translates to an increased production capacity.
In addition to this, a second assembly site has already been identified, and will begin operations by the next month to further add on to production capacity once the new materials arrive.
All bikes in Batch 3 and Batch 4 have now been completed and are ready to be shipped out. We know that many have been waiting patiently for Batch 3 to be shipped out, but unfortunately, Easyship still needs some time to sort out some legal documents to enable import of the bikes into the EU by sea.
Batch 4 (to USA) is expected to be given the all clear soon for shipping, and we will work closely with Easyship to release both containers ASAP once all documentation has been cleared.
We truly appreciate the patience and support that you have given us these last few months and we can't wait for you to get your hands on the bike!
Moving on, we will be focusing our efforts on Batches 5 and 6. Production of Batch 5 is now currently 50% complete. For those who have not yet paid the shipping fees for Batch 5, please do it as soon as possible to prevent any further delays in production for your bike.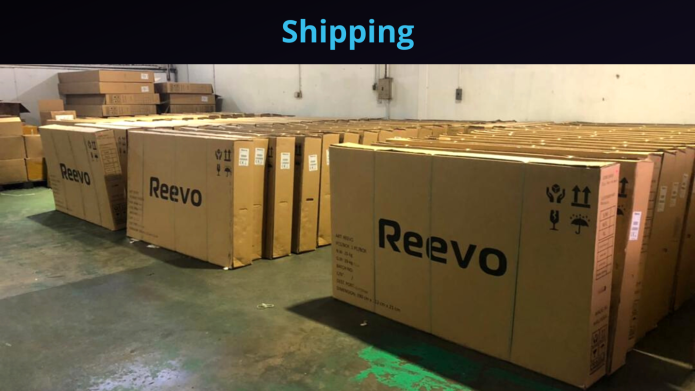 And that brings us to the latest shipping status:
Batch 1 – (COMPLETED) [SHIPPED]
Batch 2 – (COMPLETED) [SHIPPED]
Batch 3 – The Netherlands (COMPLETED) [Container awaiting pickup by Easyship]
Batch 4 – USA (COMPLETED) [Container awaiting pickup by Easyship]
Batch 5 – The Netherlands, Belgium, Luxembourg, Finland (IN PROGRESS – 50% complete)  [75% container allocated]
Batch 6 – Germany (Production to begin) [Surveys to be sent out once materials arrive]
Batch 7 – Germany (Production to begin) [Surveys to be sent out soon once materials arrive]
Batch 8 – Austria, Germany
Batch 9 – Italy
Batch 10 – USA
Batch 11 – USA
Batch 12 – France, Spain
Batch 13 – Denmark, Portugal, Czech Republic, Sweden, Hungary, Lithuania, Latvia, Romania, Estonia, Croatia, Cyprus, Slovenia
Batch 14 – Switzerland, Norway, Liechtenstein, Monaco, Andorra, Azerbaijan, Iceland, Serbia, Macedonia
Batch 15 – UK, Jersey
Batch 16 – Germany, Spain, Poland, Slovakia, Greece, Ireland
Batch 17 – Germany
Batch 18 – Germany
Batch 19 – USA
Batch 20 – USA, Puerto Rico
Batch 21 – Canada
Batch 22 – Germany
Batch 23 – Germany
Batch 24 – Japan, Korea
Batch 25 – Taiwan, Malaysia, New Zealand, Hong Kong, Singapore, Philippines, Indonesia, Thailand, Vietnam
Batch 26 – Australia
Batch 27 – Chile, UAE, Kuwait, Mexico, Saudi Arabia, Brazil, India, South Africa, Bermuda, Turkey, Algeria, Qatar
Batch 28 – China, Russia, Ukraine, Israel
Gentle reminder regarding shipping 
Shipping fees + Insurance + duties + taxes (if applicable) will be collected through the Easyship Collect platform. 
A custom link for your order will be sent out to your email when your order is almost ready to be shipped out or going to be allocated into production. You'll be able to check through the final details and make your payment via this link. 
No further action is needed prior to that. 
 
If you have received the email from Easyship, please complete the payment as soon as possible to ensure that your order is produced according to schedule. 
Backers that have bought more than a bike will receive multiple Easyship surveys as one survey = one bike paid.  
Reevo T-Shirts
As a reminder, exclusive Reevo T-shirts are available at our newly launched webstore at https://shop.reevobikes.com/. All backers are eligible for a 35% launch discount and free shipping (shipped together with your bikes).
Upon Checkout, input the following code under "Discount Code": IGG35 to get a 35% discount while stocks last.
To be eligible for free shipping, just fill in your Indiegogo Order Number during Checkout at the Shipping Address under "Company". The T-Shirts will ship together in the box with your Reevo bike order(s)
Wrapping it up
And that's it for today's update. There have been many obstacles on our journey towards delivery, but rest assured we are listening to your feedback and concerns in order to better improve ourselves. As usual, if you have any questions, please do not hesitate to email us at hello@reevobikes.com. See you in the next update. 
Take care and stay safe. 
With love,
Reevo Bikes