Dear backers,
Welcome back to another quick manufacturing update. We hope that everyone is excited as we are. Today, we are thrilled to show you the team's progress over the last few days. But first, a quick reminder on finalizing your order details.
IMPORTANT! All orders will be locked on BackerKit in 4 days
To mark the start of production, we will be locking in all existing orders on BackerKit this Sunday [27th February] at 10am EST (12am JPT, 3pm GMT). If you have not already done so, please ensure that your shipping details and bike configuration details are accurate. This is vital to ensure that your orders get shipped correctly and to the intended address.
If not already charged, your credit card on file will also be charged at this time (for additional accessory purchases and upgrades on BackerKit only). You will NOT be charged again for orders placed on the Indiegogo platform.
Some reminders:
The BackerKit survey is sent out to all backers within 14 days from your date of purchase to collect your shipping address and bike configuration details.
You will also be able to purchase any add-ons that you may have missed out on (eg. airless tires).
Please check your emails for the survey link if you have not already filled it up.
If you have not received your survey link, please drop us an email at hello@reevobikes.com.
Last chance for the Airless Tires upgrade
If you have not already done so, you can also upgrade your tires to the airless tires option for a campaign-only discounted price of $79 up until when your orders are locked before shipping this Sunday. This can be done by going to https://www.backerkit.com and logging on to your account. If you require any assistance, you can always contact us at hello@reevobikes.com.
Announcing the start of production
It's been a long and hard journey, but today, we're excited to announce that the production of Reevo will officially begin on the 28th of February. The team has been working hard sorting out components, kitting, and preparing the facility for the start of production. We invite you to check out some pictures and videos of our pilot production test run.
These are all components that have been sub-assembled by our various manufacturing partners. Once received at our manufacturing facility, they have to be checked, counted, itemized, and finally sorted into its place.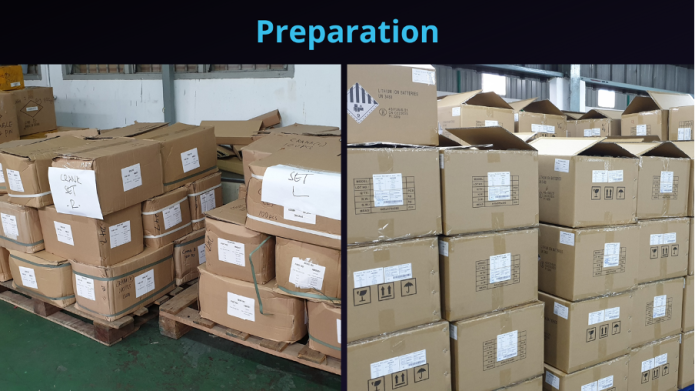 Next, the raw materials and sub-assembled modules will be kitted into individual boxes according to your orders and tracked with a work order traveller. This document is used to track the status of operations in our manufacturing process and ensures that previously set routing hours are adhered to.
The crew extracts the needed amount of bike components from the storage, puts them into these wooden boxes, and moves them to each designated Reevo assembly station for ease of assembly.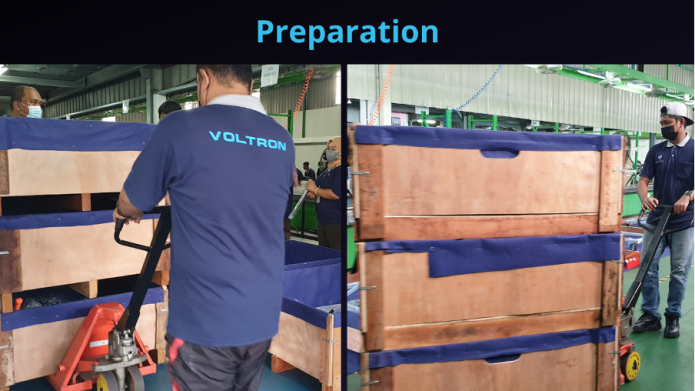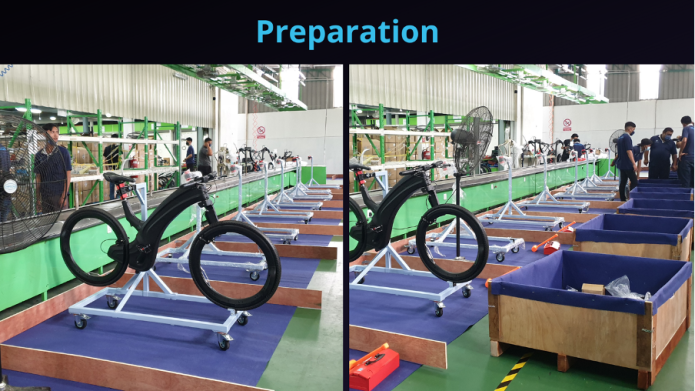 Next, the assembly process can begin.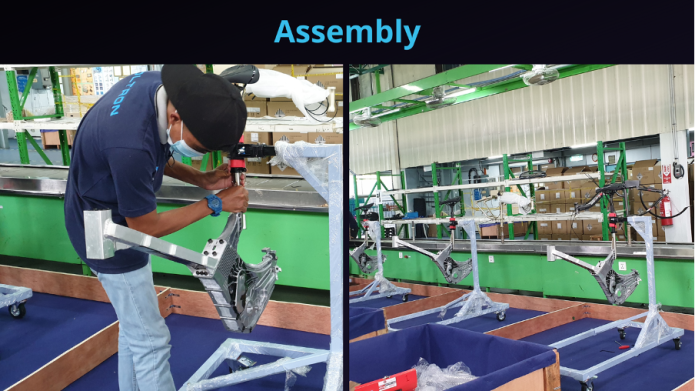 The last few days have been focused on finalizing the training of the manufacturing crew, who work in groups of three to complete the mechanical assembly of the bike.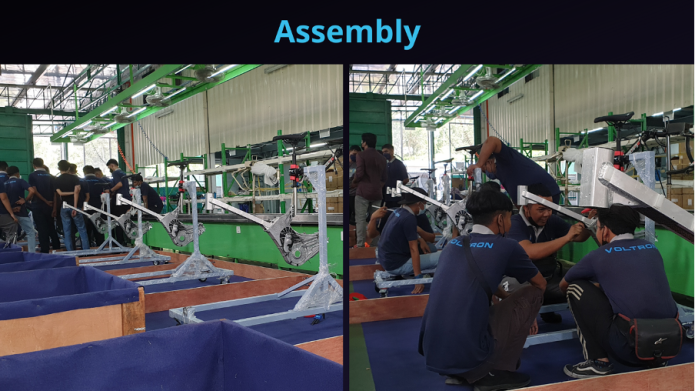 Installing the housing of the bike. Red is gorgeous!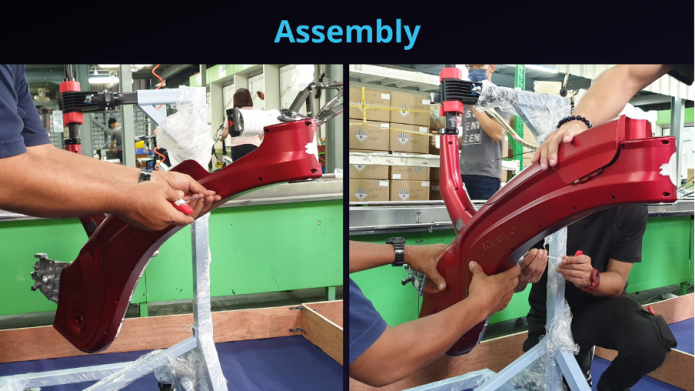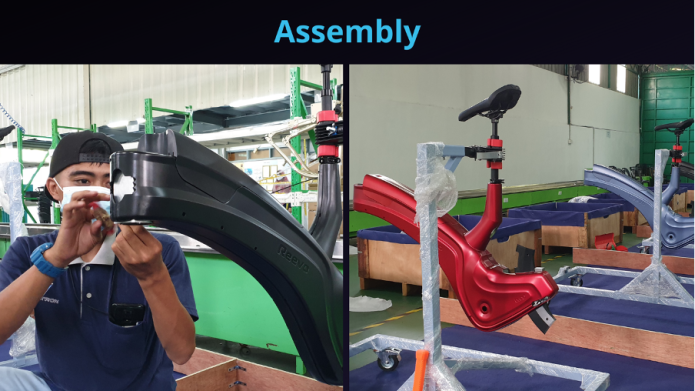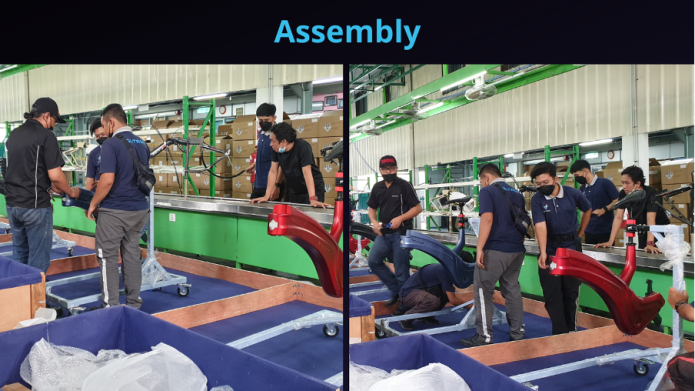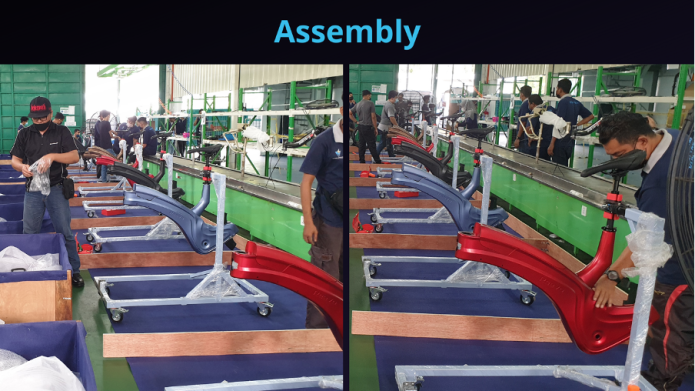 Ta-da! Look at these beauties. We'll leave the wheels for another update.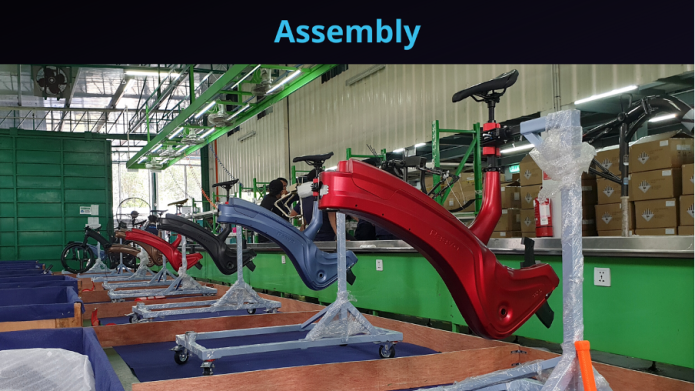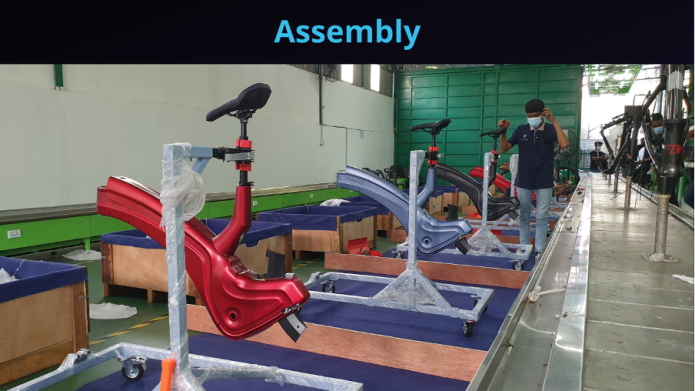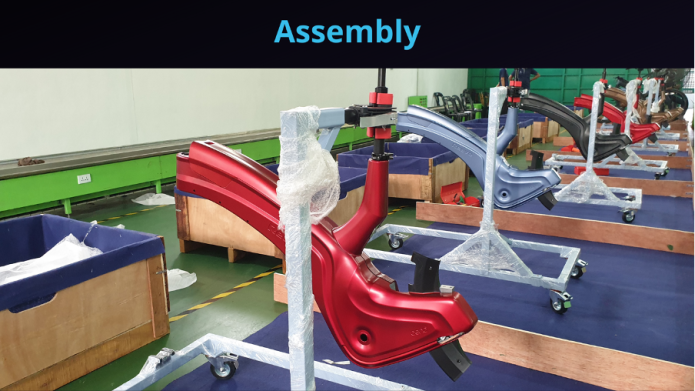 What a busy week! The team has been hard at work with our manufacturing facility crews to set up each Reevo assembly station for ease of assembly. Work will continue throughout this week to complete the training process for the start of production next week.
As a reminder, production may run slower in the beginning as we get our manufacturing facility crews familiar with the assembly process.
A long journey is ahead of us but we're just getting started. In the meantime, we've been receiving a lot of encouraging emails and just wanted to say that the team is truly humbled, and grateful for your continued patience and understanding.
Shipping fees
Shipping fees will be collected through EasyShip Collect. Please ensure that your shipping address is finalized on BackerKit before the lock date (10am EST Sunday, 27thFebruary). You will be receiving a link via email once your order is ready to be shipped out with further details about shipping.
Wrapping it up
Expect more updates soon! In the meantime, please finalize your orders and shipping details on Backerkit. Also, the airless tires upgrade is still available until this Sunday.
If you require any assistance from us, please do not hesitate to email our support at hello@reevobikes.com, and we'll be happy to help.
As always, take care and stay safe.
With love,
Beno, Inc.
—
Invest in Beno:
Invest in Beno, Inc.: Pioneering the next generation of electric bicycles | Wefunder
Stay in touch with us at:
Facebook : https://www.facebook.com/benoioofficial/
Instagram: https://www.instagram.com/beno_io/
YouTube: https://www.youtube.com/c/ReevoBikes/
Reddit : https://www.reddit.com/r/benoinc/
Twitter : https://twitter.com/reevobikes/
Website : https://www.reevobikes.com/
Email: hello@reevobikes.com