Dear Backers,
Today we would like to give you an update and deep dive on the Reevo app. Our software and engineering team took the opportunity during the extended delivery timeline to overhaul and enhance certain software features, including but not limited to the UI/UX, functionality, anti-theft system, and pedal assist algorithm.
In this update, we will be focusing exclusively on the app. We are also planning to release another Mini Series update on the pedal assist algorithm in the next few weeks.
This marks the 7th installation of the mini series. For newer backers, this mini-series will walk through the design, development process, and functionality of each customized bike component.
Mini Series #1 – Biometric Access Module
Mini Series #2 – Removable Battery
Mini Series #3 – Airless Tires
Mini Series #4 – Frame Design
Mini Series #5 – The "Invisible" Kickstand
Mini Series #6 – Antitheft System
Mini Series #7 – The Reevo App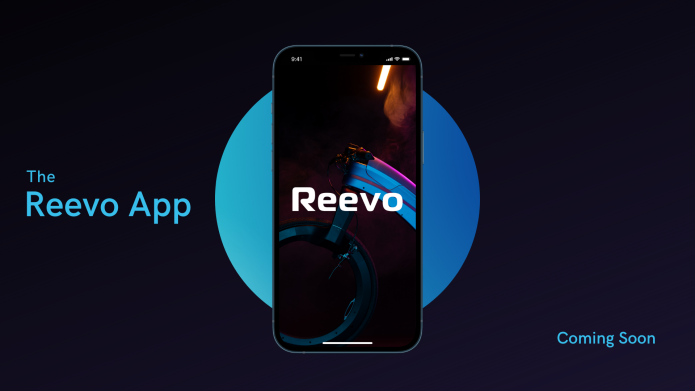 Without further ado, let's being with the first time setup process.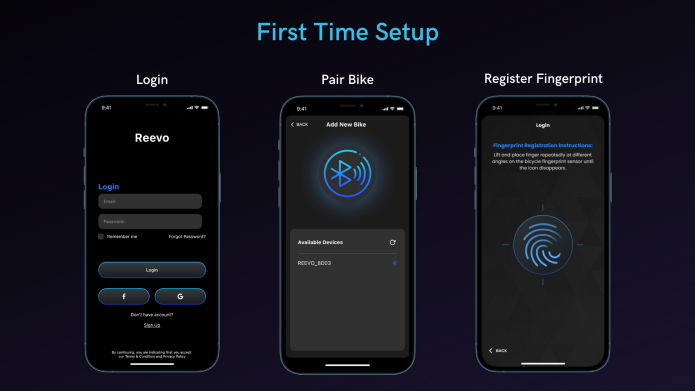 There are 3 steps for the first time setup process – login / registration, bike pairing, and fingerprint registration.
1. Login / Registration
In this step, you will be prompted to create a Beno account. You may also opt to log in with your Facebook or Google account. Otherwise, you can also register with your email address and set a new password.
2. Bike Pairing
Next, you will be prompted to pair your phone to your bike via Bluetooth. It goes without saying that  you will need an active Bluetooth connection for this process.
3. Fingerprint Registration
Once the bike is paired, the next step is to register your fingerprint. This will enable you to lock / unlock the bike via biometric authentication. At the bare minimum, 1 set of fingerprints is required for the security system to function. A total of 5 sets of fingerprints can be added from the settings menu (more on this later).
Your fingerprint data is stored locally on the bike, but not on our servers.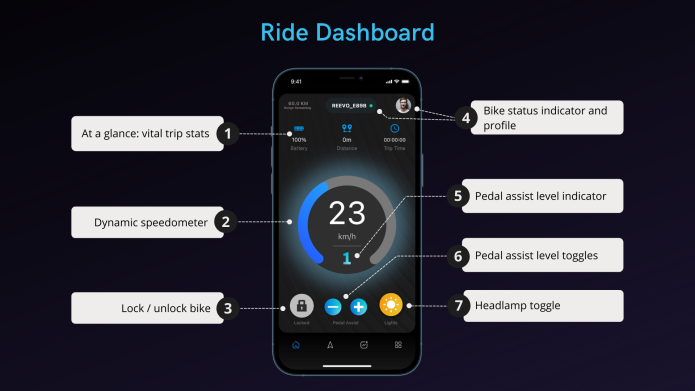 Once the first time setup is completed, you'll be greeted by the home page, or as we call it, the Ride Dashboard. On this page, you'll find all vital information and controls at your fingertips on a single page.
1. Vital Trip Stats
Here, you'll find vital trip information, including battery level, distance travelled, and trip time. We implemented an automatic trip recording system, where each trip is recorded automatically without the need for you to press a "Play" button.
All trips are then recorded in the Ride History page (more on this later) without the need for you to remember to start each ride. Due to IOS background limitations, your app may need to be opened or in the foreground for this to function properly if you're using an iPhone.
2. Dynamic Speedometer
Here, you'll be get access to real time speed information from the bike's speed sensor. We also implemented a dynamic indicator (more on this in the next section).
3. Lock / Unlock Bike
Here, you'll be able to lock or unlock the bike from the app. The lock / unlock process can also be triggered directly from the biometric access module.
4. Bike Status Indicator and Profile
The bike status indicator gives you an easy way to switch connected bikes (if you have more than one Reevo). There is also a status indicator to indicate the current connected status – green for connected, red for disconnected.
Clicking on this button will bring up a switcher menu to switch bikes on the fly.
The profile page will bring you to your account details page. If you opted to log in with Facebook or Google, your information will be obtained automatically from the respective services.
5. Pedal Assist Level Indicator
Here, you'll be able to see the pedal assist level at a glance. As a reminder, the bike has 5 levels of pedal assist. More on this in the next Mini Series update.
6. Pedal Assist Level Toggles
You'll be able to control the pedal assist level directly from the app. Alternatively, this can also be controlled directly from the integrated biometric access module on the bike handlebars. Both hardware and software methods are in sync – changing the level from the hardware will also change the indicated level on the app, and vice versa.
7. Headlamp Toggle
This button controls the integrated bike headlamps. There are 3 modes – on, off, automatic. The automatic mode uses data from the integrated ambient light sensor to dynamically control the headlamps depending on external lighting.
Sensitivity of the automatic mode can be adjusted from the Settings page (more on this later).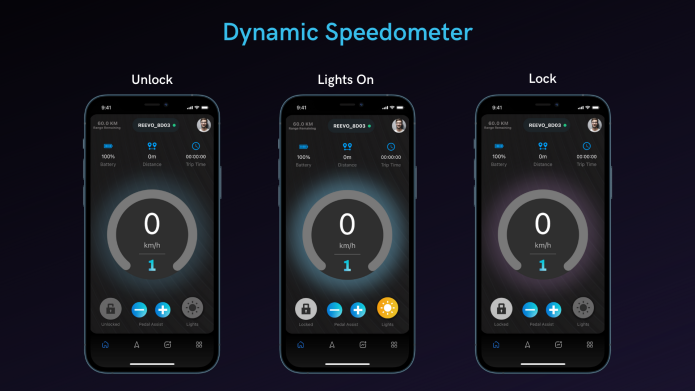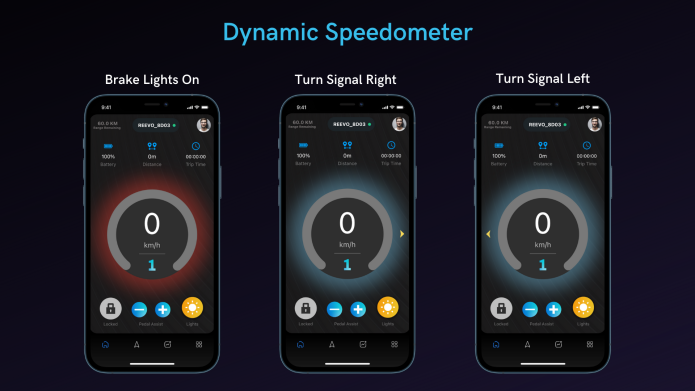 The Dynamic Speedometer visualizes the current state of the bike at a single glance. The "glow" behind the speedometer shows you the current status of the bike.
In total, there are currently 4 modes – unlocked, lights on, locked, and brake lights on. These statutes are deeply integrated with the bike hardware. For example, pressing the brakes will cause the Dynamic Speedometer to show a "red glow" behind the speedometer.
In addition to this, we also integrated a visual indicator for the turn signals on the app. As a reminder, the turn signals can also be triggered from the biometric access module on the bike handlebars.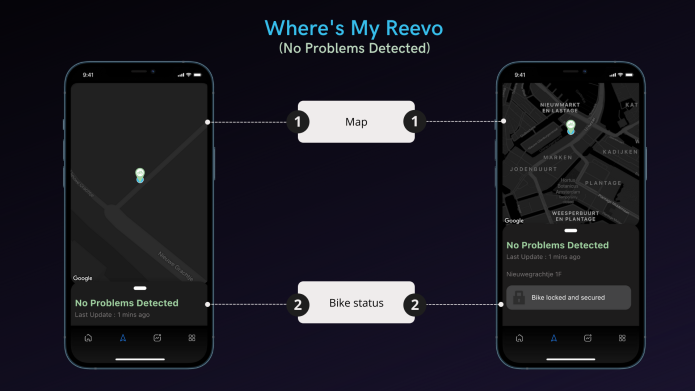 Moving on to the anti-theft system (accesible from the bottom navigation menu), there are a total of 3 states for the bike – no problems detected, theft attempt detected, and theft in progress.
For all modes, there is a visual indicator for the bike's location and your location relative to the bike. For the anti-theft system to function, a GSM / 4G connection is required – a working SIM card is required for this.
No Problems Detected
In this mode, your bike is locked and secured. Hopefully this is the screen that you see all the time.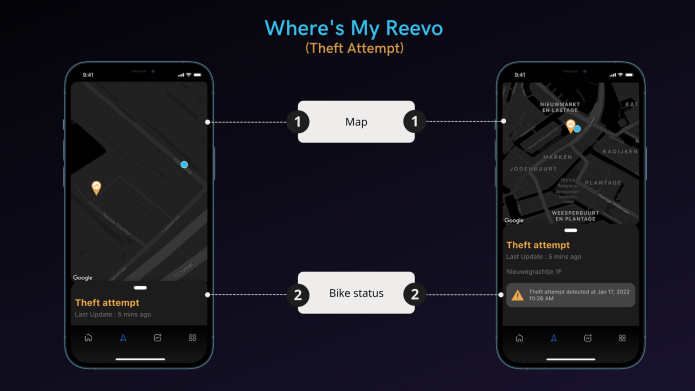 Theft Attempt
Once locked, the bike stays alert for theft attempts. A smart algorithm detects theft attempts using the integrated motion sensor and accelerometer and triggers this mode.
Once this mode is triggered, you will receive a PUSH notification on your mobile phone for your action. You'll also be able to see the date and time stamp and location of the theft attempt from the app.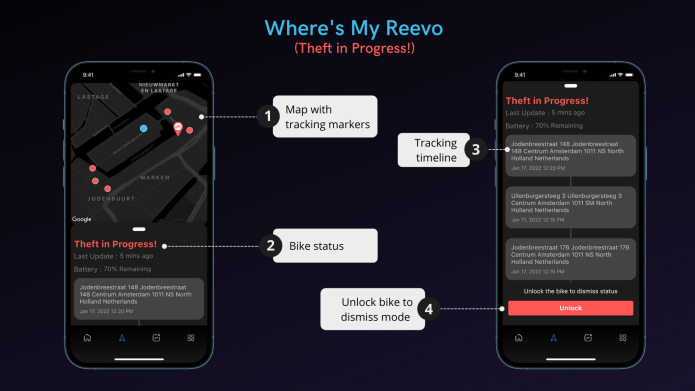 Theft in Progress
Finally, the mode that we hope you never have to see. This mode is triggered when your bike leaves a preset geofencing radius while the anti-theft system is engaged.
In this mode, you'll get constant timestamped updates with the bike's location. These locations will also appear as markers on the app, along with a complete timeline.
This mode can be dismissed by unlocking the bike via Bluetooth or the biometric module – signifying that you are in close proximity of the bike.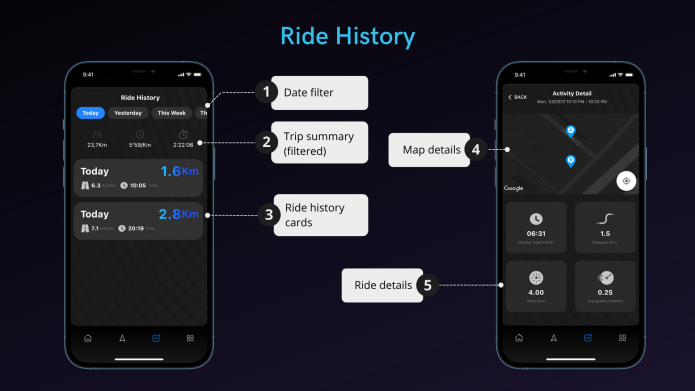 Ride History
The Ride History page allows you to access all previous trips. As mentioned in the Ride Dashboard section, all trips are recorded automatically without any manual triggering needed.
We implemented date filters and a trip summary for the selected date range for you to better understand your riding habits.
Each ride shows up as individual cards. Clicking on these cards brings up further details, including – pace, distance, average speed, trip time, and a trip map (start and end positions).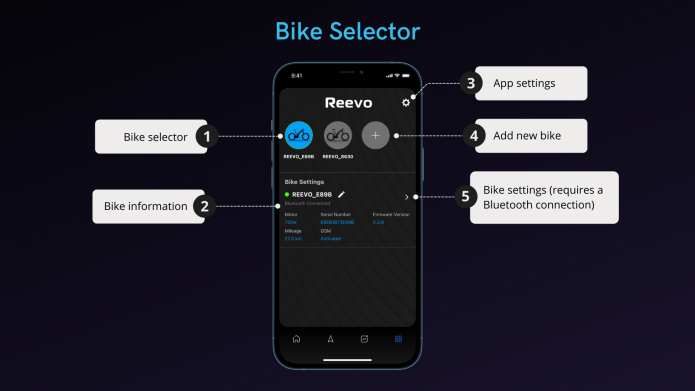 1. Bike Selector
The Bike Selector section allows you to access important bike information at a single glance. If you have more than one bike, they will all show up here. Clicking on each bike (even if they are not within Bluetooth range) will bring up information about that bike.
2. Bike Information
This section displays relevant information for the bike selected via the Bike Selector. This includes – motor power, serial number, firmware version, mileage, and GSM status. A Bluetooth connection is not neccesary to access these information.
3. App Settings
Access various app-specific settings such as display units (metric / imperial).
4. Add New Bike
You can add new bikes in this section.
5. Bike Settings
Access bike specific settings. Requires a Bluetooth connection to the bike to access.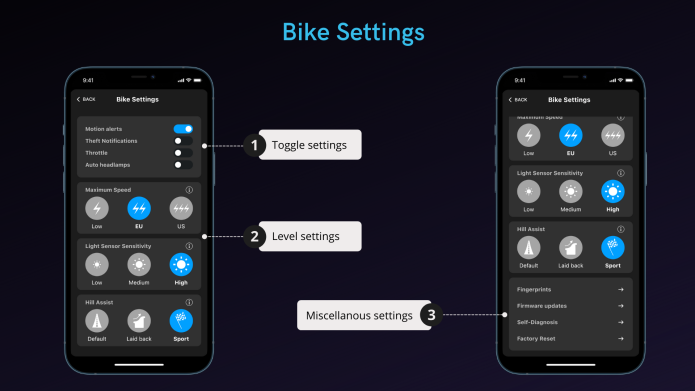 In the Bike Settings page, you'll find various bike-specific settings.
1. Toggle Settings
These are settings that can be toggled on or off, including – motion alerts, theft notifications, throttle, and automatic headlamps.
2. Level Settings
These are always-on settings which can be set to various intensities according to user preference, including – maximum speed, light sensor sensitivity, and hill assist profiles (more on this in the upcoming adaptive pedal assist update).
3. Miscellaneous Settings
These are other bike-specific settings, including fingerprint registration, firmware updates, self-diagnosis, and factory reset.
Bike firmware updates are handled over-the-air (OTA) and can be directly triggered updated from the Reevo app. No wires needed. This allows us to continuously improve the bike and push updates without the need for you to visit a dealer.
—
And that concludes today's update! We hope that this gives you an in-depth look at what you can expect from the integrated firmware and Reevo app. The app will be available on the Play Store for Android devices, and the App Store for IOS devices when we begin shipping.
Beta testing will not be available prior to that as many functions require a Bluetooth connection to the bike to function.
We also remain committed to improving the app and bike firmware after delivery via OTA updates.
Please stay tuned for future updates – including a Mini Series on the adaptive pedal assist algorithm in the coming weeks.
As always, take care, stay safe, and have a great week ahead.
With love,
Beno, Inc.
—
Invest in Beno:
Invest in Beno, Inc.: Pioneering the next generation of electric bicycles | Wefunder
Stay in touch with us at:
Facebook : https://www.facebook.com/benoioofficial/
Instagram: https://www.instagram.com/beno_io/
YouTube: https://www.youtube.com/c/ReevoBikes/
Reddit : https://www.reddit.com/r/benoinc/
Twitter : https://twitter.com/reevobikes/
Website : https://www.reevobikes.com/
Email: hello@reevobikes.com